Mud/Turmeric Therapy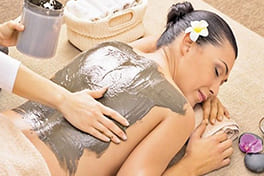 It uses the power of natural mud to absorb toxins from our body which in turn helps prevent many diseases.
History suggests the usage of mud for its therapeutic characteristics hails back to the ancient medieval age. At that time it was used as a valuable therapeutic agent. Emanuel Felke, a German therapist tried to restore the Mud Therapy and nicknamed it as 'Clay Pastor.' Adolf Just, one of the pioneers of natural cure believed that all diseases will be cured on the basis of sleeping and lying on earth. Italian scientists used thermal mud from hot spring in arthritic patients. Between the 17th and 19th centuries, mud therapy became popular in Europe to treat chronic illness made with mineral waters and mudpacks. During the second half of the 20th century, pharmacology developed the idea of Mud Therapy to be considered as an alternative medicine and used in spa treatments. The use of mud from the Dead Sea in Israel is known from millions of years ago prescribed for arthritis patients and psoriasis. Egyptian Queen Cleopatra always experimented with natural beauty resources, established her own spa on the shores of the Dead Sea.
Father of Indian Naturopathy Mahatma Gandhi was found to be a firm believer of Naturopathy in treating diseases with nature. He used to apply mud directly on the affected parts of body and to relieve constipation.